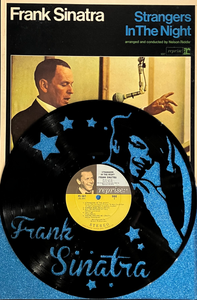 This custom, one-of-a-kind carved vinyl art features the album Strangers in the Night by Frank Sinatra. Parts of the original album cover were used to make the art, including the front cover of Sinatra singing into a hanging microphone with an outstretched hand. The blue pressed glitter background adds color and pulls this collector's item together.
Immerse yourself in the fusion of music and visual artistry with our custom 12x18 'Astro Vinyl Art' pieces. Crafted with the rhythm of originality, each piece exudes nostalgia.
Every Astro Vinyl Art comes nestled in a sleek, low-profile frame, carefully designed for effortless hanging. Our masterpieces are carved into original or randomly selected records with a custom label.
Our creations are one-of-a-kind pieces of art, lovingly hand assembled. We draw inspiration from the artist's original vision and the album's distinct color palette to design a layout that pays homage to their creativity. The piece you see in the picture is the exact vinyl you will receive, ensuring an irreplicable and personal experience. Each of our creations preserves the essence of the vinyl, including its history and quirks.
We breathe new life into upcycled records, transforming them into timeless pieces of art. Keeping in mind that these are vintage records, they come with their original character - scratches, minor warping, and other unique features are part of their charm. Album covers, too, carry their history in the form of faded colors, slight tears, or incidental scratches, adding to their captivating appeal.
We are committed to transparency and aim to describe any noticeable imperfections. To appreciate the authentic vintage condition and quality of our product, we encourage you to zoom into the product photo.
Embrace the nostalgia and creativity of our 'Astro Vinyl Art' pieces, where every groove tells a story, and every image sings a song. Welcome home a piece of musical history adorned on your wall.